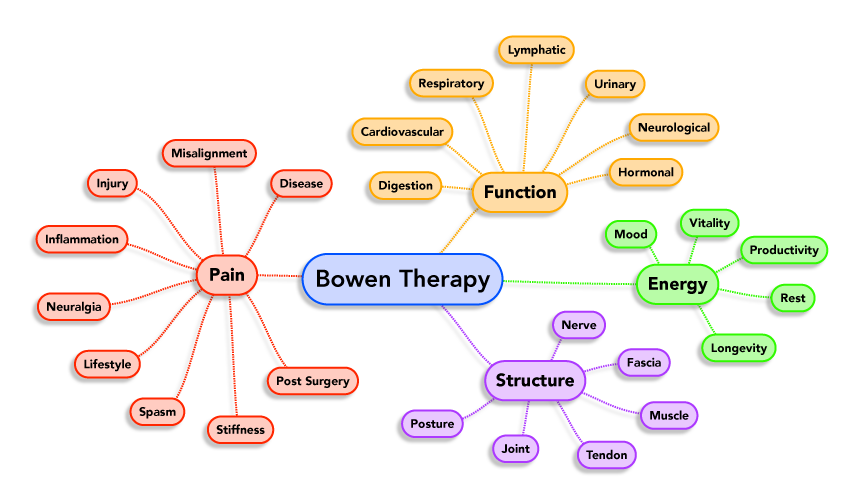 Bowen can help specifically address a number of health issues.
Alleviate low-back pain and improve range of motion.

Vertigo

Ear problems, including chronic inner ear problems

Neck pain

Bursitis

Tendonitis

Fibromyalgia

Sciatica

Frozen Shoulder

Plantar Fasciitis

Thoracic Outlet Syndrome

Knee Problems

Tennis Elbow

Carpal Tunnel Syndrome

Asthma

Hay Fever

TMJ

Headaches

Kidney Release

Ankle Sprains

Bunions

Assist with pain for expectant mothers.

Ease medication dependence.

Enhance immunity by stimulating lymph flow—the body's natural defense system.

Stretch weak, tight, or atrophied muscles.

Help athletes of any level prepare for, and recover from, strenuous workouts.

Improve the condition of the body's largest organ—the skin.

Increase joint flexibility.

Lessen depression and anxiety.

Promote tissue regeneration, reducing scar tissue.

Pump oxygen and nutrients into tissues and vital organs, improving circulation.

Reduce post surgery adhesions and swelling.

Reduce spasms and cramping.

Relaxes and realigns injured, tired, and overused muscles.

Allows your body to repair and heal itself.

Relieve migraine pain.
Bowen is an effective tool for managing stress, which translates into:
Decreased anxiety.

Enhanced sleep quality.

Greater energy.

Improved concentration.

Increased circulation.

Reduced fatigue.
Please call me at 916-705-3588 if you have any questions or to schedule a appointment.